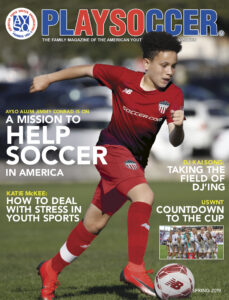 We are very excited to announce that our digital version of the Spring 2019 PLAYSOCCER magazine has officially launched!
This digital format for PLAYSOCCER gives you the opportunity to share these stories individually. We encourage you to share on your social platforms and feel free to add to your own newsletters or local Regional websites.
Features
AYSO Team Holds 35 Year Anniversary Reunion
AYSO Alum Ken Dean shares the story of how his old AYSO team stayed so close and reunited 35 years later.
The Coaching Manual: Coaching Your Own Child
Read about the great ways to ensure a great coaching experience with your own child.
Chiara: Calcio Femminile & AYSO United
Chiara talks about how much the program has impacted her game and how it is helping her follow her dreams of playing professional soccer.
AYSO Alum Jimmy Conrad is on a Mission to Help Soccer in America
USMNT & MLS legend Jimmy Conrad talked to us about his recent appointment as San Francisco Glens SC Technical Director/Associate Head Coach and hopes to improve the game of soccer in the US.
DJ Kai Song: Taking the Field of DJ'ing
We talked to up and coming DJ and AYSO player Kai Song about his special talents and goals for his future.
Big Wins On & Off the Field for Bradley
This amazing AYSO player not only wins with a great attitude on the field but has a win off the field that is life-changing.
Growing the Game with Nathaniel Lepani
Nathaniel Lepani shares his AYSO story and how he is working hard to grow the beautiful game in Papa New Guinea.
Katie McKee: How to Deal with Stress in Youth Sports
Esteemed Mental Performance Consultant and AYSO coach Katie McKee shares her tips for reducing stress in youth sports.
Countdown to the Cup
With the World Cup just a month away it is the perfect time highlight our current champions of the tournament, USWNT!
Coloring Contest
Color the picture and enter to receive an AYSO prize pack! All entries must be received by July 5, 2019.
---
You can read past editions of PLAYSOCCER here.
---
PLAYSOCCER is published by the American Youth Soccer Organization (AYSO) as a benefit of AYSO membership. Subscriptions are free to AYSO families. Editorial contributions are always welcome, but PLAYSOCCER assumes no responsibility for lost or stolen manuscripts, photographs, or other materials.
© 2019  American Youth Soccer Organization, Inc. All rights reserved. Reproduction in any form, in whole or in part, without written permission is strictly prohibited. Nonprofit postage paid at Main U.S. Post Office, Torrance, CA. EDITORIAL OFFICES PLAYSOCCER, 19750 S. Vermont Ave., Suite 200, Torrance, CA 90502 playsoccer@ayso.org.
Dear Members: All photographs, stories, and other materials are welcome and will be considered for publication in PLAYSOCCER. PLAYSOCCER reserves the right to editorial comment on unsolicited materials. If you wish submitted materials be returned, please indicate and send a stamped, self-addressed envelope with original correspondence. Please do not send one-of-a-kind photos, irreplaceable artwork, or other such materials as it is possible these items might be lost, damaged, or destroyed during the magazine's lengthy production cycle. Unless otherwise requested, PLAYSOCCER reserves the right to list any contributor's name, age, Region, and/or hometown.