Let's face it, being a referee is challenging, from working to keep the game safe, fair and fun for everyone involved, they also need to be conscious of players, substitutes, officials, coaches, spectators and their very own assistant referees. This calls for a deep sense of self-awareness.
And while many may not rise to this challenge, two AYSO siblings have taken the challenge head-on and some would even say, love it. Siblings, Pita and Jacobo not only play soccer, they volunteer in their home AYSO Region 785 to make sure other kids have the same opportunity. Their hard work, passion and selflessness were rewarded this summer when their San Diego community of North Park sponsored them to attend AYSO Residential Camp.
The AYSO Residential Camp is a five-day camp hosted by AYSO staff and volunteers that focuses on the complete development of a player both on and off the field. Players learn key elements needed to be a successful teammate, as well as the skills to develop a level of personal responsibility to succeed in school and beyond through the help of experienced soccer coaches and mentors. Fortunately, for Pita and Jacobo, one of the mentors this week was AYSO's own Referee Program Manager and National Referee Council member, Taidgh Simpson.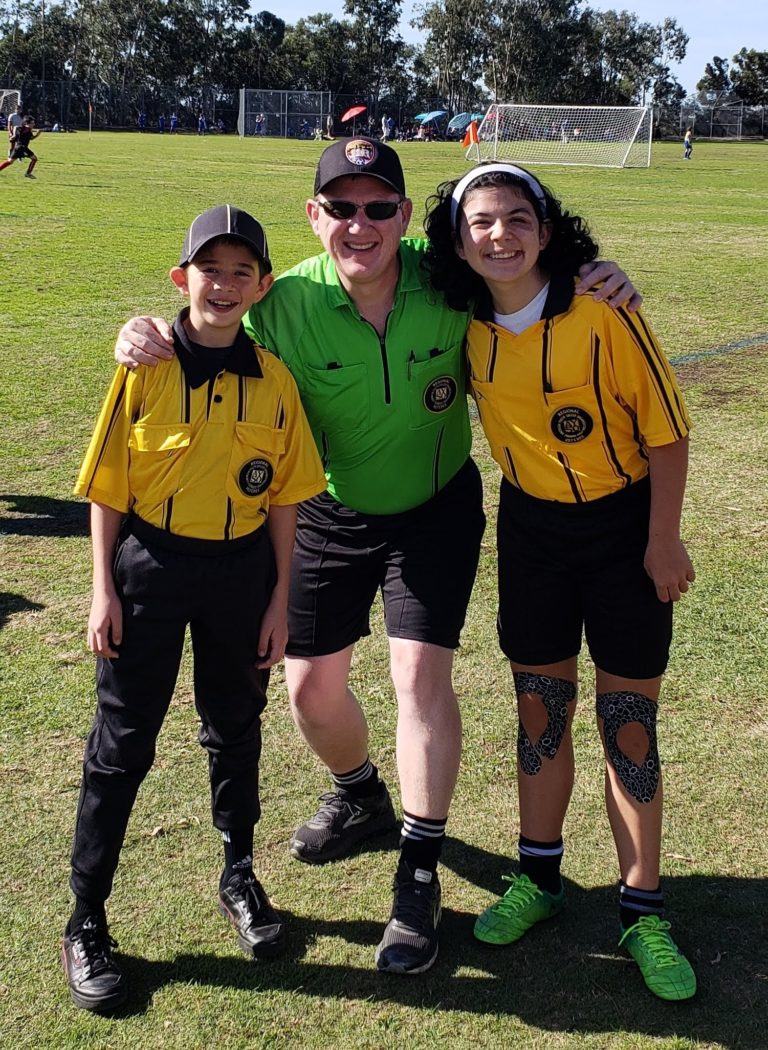 "It's fantastic to see the next generation of referees and the scope of their involvement with their communities. You can really see how the perspective gained from their referee experience has helped them on the field and their knowledge of the game. Jacobo and Pita are a real credit to North Park AYSO, to Section 11, and to AYSO," said Simpson.
Jacobo and Pita had no idea the praise they received would lead to an opportunity like Residential Camp. The pair's humility wouldn't let them think there would be a reward for giving so much of their time to volunteering.
"I guess our names were brought up in an AYSO board meeting for refereeing the most youth games and they decided we should get a chance to go to Residential Camp," shared Jacobo on how they found out about their sponsorship. "I honestly had no idea we would get something for that."
Pita, 15, his older sister, is no stranger to volunteering. She regularly volunteers with AYSO, YMCA and goes to Tijuana, Mexico with her mother to help families in need. To her, selflessness and giving back is a way of life. At a time where the pressures of school, sports and social life are usually the focal points of a 15 year-old's life, Pita places her focus on the betterment of those around her. Nonetheless, finding out that she would be rewarded for her altruism prompted excitement.
"We referee at least one or two games a week because we like to get out there and help because referees are vital for games. It's helpful to know what's legal and what's not legal. And it's really helped us. So when they were talking about how we were coming to this camp, we were super excited because we both love soccer, it's just a great opportunity," said Pita.
For Jacobo, his rise to refereeing came from a different perspective. The ambitious youngster didn't always have a positive view of referees. He needed to walk a mile in someone else's shoes until he could see where referees were coming from – a lesson Jacobo has learned well.
"For me, I wanted to start being a ref because as a player, I always thought the refs were really bad and I wanted to be a good ref, like one of the only good refs and then I found out the refs were actually really, really good and I just didn't know the rules," said Jacobo.
Now back home and in the midst of fall season, their Region administrators are more than glad to have them back. Pita and Jacobo are still known to show up every weekend to referee several of the 18 games they have on any given weekend. They have been referees for three years now and earned acclaim from their Regional Referee Administrator, Dan Joseph.
"Pita and Jacobo are amazing kids. They referee with their dad as the center referee and many times without his presence. Pita and Jacobo are very bright youth referees and I seldom find errors in their judgment calls," said Joseph. "They provide excellent coverage for the weekend matches and their great nature and professionalism are some of the top reasons why we selected and sponsored them for the Residential Camp."
Jacobo and Pita are not big in stature and can be seen as 'too young' by the crowds who don't know their age. But if you take a walk around the North Park fields at Morley Park you'll be sure to observe these referees standing tall – raised by their confidence in refereeing.
When the final whistle blows, Jacobo and Pita will head back to the referee tent, not to take a break but straight towards Joseph to ask about calls the center referee made or calls they made for clarification. Actions like this add to the long list of reasons they were chosen for the Residential Camp.
"These kids are the future of refereeing. I expect great things from them and fully expect them to take on key referee positions in the future. And they can one day take my job," said Al Prado, National referee and Section 1 Director of Referee Instruction.
With those words, it is safe to say the future of refereeing in AYSO is in good hands with Jacobo and Pita and the other players they inspire with their service. We can't wait to see what else their future has in store with Region 785 and beyond.