It's hard to say precisely where my love of sports began. As a kid, rather as a GIRL, I was heavily influenced by my father and brother, who were always talking about football, basketball and baseball. Each sport had a language and terminology that was fascinating to me and I made it my business to learn these in the way an exchange student consumes the phrases of a new culture. Why? Who knows, that's just the way I came wired.
My favorite thing in the world back then was trading cards. This gave me the opportunity to study stats and get to know players more intimately. I literally had boxes full of them under my bed. By the time I was ten, I was the first girl to start a game pitching in an all-boys league in my hometown. To say I was a sports geek would be an understatement.
I spent all my time at Roxbury Park when I wasn't at home. There was always a reason to be there. Baseball practice, tag football or kickball. One day, the park supervisor talked to all the other "park rats" about a new league called AYSO that was coming to town. It was a sport called soccer, and they had boys and girls teams. He handed us a flyer and I went home and asked my mom to sign me up.
I had never heard the word "soccer" uttered in my life. Luckily, one of my school friends had signed up too and her mother was from Chile. She quickly gave me the run down but I couldn't even absorb it because she kept calling it "football," which she claimed was the most popular sport in the world. How could that be possible since I was an expert on sports and hadn't heard of it?! She kept going     
on…you could only use your feet, there were no time outs…something about red and yellow cards.
This was a new world indeed.
I tried to learn as much as I could about the game before our first practice. Remember, back in the mid-'70s, there was no internet. I had to go to the library and even there, information was scarce. I do remember reading about a man named Pele who was supposed to be a big deal and thinking, "Who is this guy". Pretty funny to me now.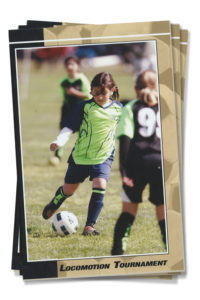 Luckily, the unknown didn't scare me and a bunch of adolescent girls off. We showed up at the park and were met with a kind man who I remember fondly to this day. His name was Ed Thayer and he was the uncle of one of the girls on my team. He was honest with us from the start – he had never played the game before but he knew enough about it from his travels that he felt he could teach us something. His humble, self- effacing approach was different than most coaches even I had experienced even in my young life. He had me from "hello."
We'd practice once a week and as we got better, so did Coach Ed. He was getting excited when we'd pick up a move or try something new and brave. He could see I was an athlete and told me that just because no other girls on the team wanted to play goalie, I'd make a pretty good one. It gave me the confidence to step into that role for the next few years, something that I really fell in love with and became a kind of identity for me. My hand-eye coordination was strong from baseball and truth be told, I loved feeling special from the other girls in my more serious black, long sleeve jersey.
That brief, three year period in AYSO planted the seed for a lifetime love of the beautiful game, even though shattering my wrist as a freshman in high school playing on a varsity team
stopped me from continuing to play (I switched to tennis as my fall sport).
Fast forward twenty years later when I had a daughter of my own and there was no question what sport I was going to introduce to her first. Soccer. Why? Because spending that brief time in AYSO opened my eyes to a sport that does more than teaching coordination and keep you in shape. Coach Ed got us to work together in a way I had never experienced in baseball or basketball and certainly tennis. The moving parts of the game and the discipline it took to keep all those parts in unison were not only challenging, but fascinating. It was both mental and physical with an emphasis on connectivity, always.
My daughter was five when I took her to her first AYSO practice, in the very same region that I started my soccer journey on. I'm not going to lie it was slightly emotional for me. When the parent-coach asked if anyone wanted to be his assistant coach for this season, my hand involuntarily shot up. I had no idea what I was getting into but somehow, it felt like the right thing to do. Little did I know this moment would change my life forever. That one gesture opened up a world not only for me but my daughter as well. I went on to coach AYSO teams for another four years, and my daughter continued to play for many years after that.
Today, I am the founder of Girls Soccer Network, a media company whose mission is to inspire girls and create content around the women's game. This certainly wasn't my plan when I met Coach Ed, or took my daughter to her first practice but it's what happened when I realized that there is no better way to positively influence and impact a young girl's life than sports, specifically soccer. AYSO is both a part of my story and my daughters and I will be forever grateful for the impact it's had on our lives.
To learn more about Jennifer Gruskoff and Girls Soccer Network visit girlssoccernetwork.com