As the holiday season draws near, the spirit of giving is here! This year, AYSO will launch our 2nd annual Give the Gift of Soccer campaign on Giving Tuesday, December 3 through December 31 2019, to raise funds and awareness for the Hugo Bustamante AYSO Playership Fund.
The Hugo Bustamante AYSO Playership Fund provides soccer scholarships to young players in-need to ensure children with a desire to play soccer would be given the opportunity.
At AYSO, we are committed to enriching the lives of children through the beautiful game and believe that soccer should be accessible for all, no matter a player's socioeconomic status. In fact, Coach Hugo Bustamante held this very same belief 10 years ago when his small act of selflessness sparked a movement of generosity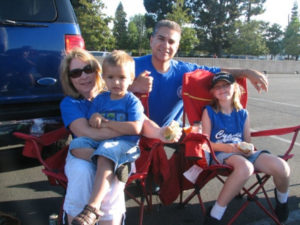 In 2009, while helping coach the 10U girls' team, Cypress Cyclones, Coach Bustamante led the team in a run towards their regional soccer championship. When his team found out that they would advance in the tournament only because their opponents, the Huntington Park American Eagles, couldn't afford the travel costs, Bustamante made the noble decision to organize a fundraising effort to cover the team's costs instead of having his own team advance.
Sadly, just weeks after his fundraising efforts sent the Huntington Park American Eagles to the finals, Bustamante was tragically killed. His memory and kind-hearted spirit live on through the Hugo Bustamante AYSO Playership fund and all the young players who have now been given the chance to play soccer because of his legacy of generosity.
Giving the gift of soccer goes far beyond allowing a child to play a sport. It means giving a child the opportunity to experience community with their peers, to build friendships, to practice healthy habits, to grow in their confidence and to feel empowered as an individual and as a player! When you give the gift of soccer, you gift an experience to a child who might otherwise miss out on all the beauty this game and the AYSO community have to offer.
This holiday season, be the reason a child smiles out on the field. Give the gift of soccer.