By: Carlos Funes
Soccer and music, a partnership mostly seen in the mainstream sectors of our sport and a rarity in the grassroots.  The joyous Brazilian genre of pagode was born in Rio de Janeiro and has served as the soundtrack to Brazil's best generations of national team players. Meanwhile, English 'football' can be found accompanied with an English-based house music tune for almost every Premier League highlight reel video. The connection between music and soccer is clearly strong and one special player here in the U.S., Kai Song, embodies the best of both worlds. Kai, a 14-year old AYSO player and rising DJ, is giving his best to improve his talents, both on and off the field.
Kai is a young kid with many talents and a great attitude to accompany them. His favorite hobbies can be traced back to his father, Lars Schlichting, who is the Director of Product Planning and Artist Relations at Pioneer DJ Americas and a German born die-hard fan of the world renowned FC Bayern Munich. The groundwork was set at a young age and the rest was history for Kai. Early on he decided he wanted to learn as much as he could about DJ'ing and soccer from his father and has worked hard towards that goal ever since.
At just age 3, Kai was infatuated with all the knobs and faders on his father's Pioneer DJ equipment and wanted to know what each of them were used for, so his father began to teach him. That same year, he had his first gig and ever since then his passion for music has grown tremendously, leading to performances on Good Morning America and at Red Bull Arena, home of the Major League Soccer team New York Red Bulls.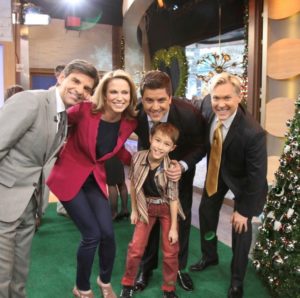 "My dad put Good Morning America on TV, so I asked 'what is this?' and he said 'There's a chance that you can play here'. Every Friday they had a DJ during their show to play. At the time, I still didn't know what it meant," says Kai on his experience with Good Morning America. "Once I got there, I knew this was actually very big and was going to be nationwide, for millions of people to see. It was an amazing experience, everyone was so nice on my first live TV show. I felt like I should have been nervous but I wasn't nervous."
From then, Kai's life was split between his studies, music, and soccer. As most Germans do, Kai's father, Lars, loves soccer and it was only natural that Kai's love for the game would be inherited at a young age. Around the same time that he began DJ'ing, his father began to teach him to play soccer. In 2011, at age 8, he joined his first AYSO team in Brooklyn (Region 473), right after the 2010 World Cup – which left Kai looking for more from the beautiful game of soccer.
"I've always had an interest in soccer, and I literally follow soccer too much – all the leagues across Europe. And AYSO has always been great because it's just a lot of fun," says Kai. "When I was younger, I was never the person to shoot because I was always afraid that I would miss, so I became a playmaker and it became my style over the years."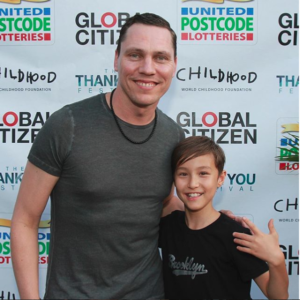 As  Kai grew older, he found his style in soccer and in music, becoming a professional electronic dance music DJ playing shows with some of the genre's biggest stars. His peers in the music scene include mega stars such as Tiësto, dubbed the "Greatest DJ  of All Time" by Mix Magazine, who Kai opened up for at the "Thank You Festival".
His work ethic can be best placed on display on a 'typical' Saturday for Kai. This day would consist of choir/singing in the early morning, then rushing off to an AYSO soccer Saturday match around noon, to more singing practice and then back home preparing for travel and making more music. Kai has a strong grasp on the idea of working hard in whatever you want  to get better at, developing his skills to the best of his ability in individual and team settings.
It's hard not to imagine long term success for this driven teenager in whatever skill he focuses his efforts on. Perhaps high praises for a 14-year old, but one should expect no less from someone that at such a young age is very mindful of developing as not only a player on the field but in every one of his artistic endeavors.
What's next for Kai Song in the world of soccer and music? More work and development.
"I am going to continue working hard in school and in the next year or two I want to put out another music track, play more gigs and make more remixes/mash-ups," says Kai. "For soccer, I am definitely going to keep playing AYSO and scoring more goals and give more assists."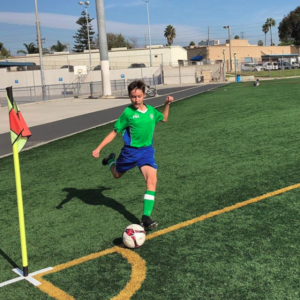 A goal-setter indeed. We wish Kai the best of luck in all of his adventures and goals.
To learn more about Kai Song visit
him on Instagram: @djkaisong