By: Carlos Funes
It was Saturday morning, September 29, and countless kids were hitting the field like they would on any other soccer Saturday, excited for their fun-filled AYSO matches. For many kids it was going to be just another game, but for Bradley, it would prove to be a very special day.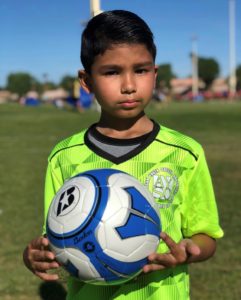 That same morning, Bradley suited up in his highlighter green, striped jersey, ready to for his very first soccer game with AYSO's VIP (Very Important Player) program – a program of AYSO for players with developmental disabilities. This marked a major milestone for the young boy from Indio, a California city 20 miles east of Palm Springs. While other kids were looking to get their first wins of the season, for Bradley any win on the soccer field would come second to his greatest victory of all – beating cancer.
As his first official day playing sports, it was only right that he felt a little nervous to step on to the field and join the ranks of so many other fun-loving AYSO soccer kids. With a little encouragement from his #1 teammate and mother, Bradley was ready.
First kick – boom – contact on the ball. Bradley's confidence notably rose. Then with each kick, each pass and each run he gained more courage and confidence. His mother looked on, happy to see him having a great time with other people his age, just like every kid should. A completely different view from this time last year, when Bradley would be seen struggling with the smallest of physical movements.
Diagnosed with medulloblastoma brain cancer in September 2015, Bradley and his family were faced with one of the toughest obstacles any person could go against. Bradley had a long and tough road ahead of him before he could even begin to think about setting foot on the field. Treatment included a six hour brain tumor resection surgery, eight months of chemo therapy and 31 radiation treatments over a two year period. The treatment left him needing to relearn how to talk and walk.
"It's hard to believe that just a year and a half ago Bradley used a wheelchair and now he's able to run around a soccer field. He has to catch his breath more than other kids his age but we have to celebrate this accomplishment. Little by little, we're blessed," says Bradley's mother, Bibiana Becerra, on his first day of AYSO soccer.
A major accomplishment indeed for the determined boy. Bibiana has been a loving mother and his rock, providing Bradley with endless support and strength throughout this trying recovery. Now that he's past the bigger challenges of rehabilitation, his sights are set on the beautiful game of soccer within AYSO's player pathway.
"He gets excited to play soccer on Saturdays! He has a few hurdles to get past and still goes to physical therapy but I love to see the progress he's made on and off the soccer field," says Bibiana.
His road of recovery isn't over but his love for the game has just begun. With a strong support system, both from his family and AYSO community, he is bound to develop quickly.
"There is no better representation of our vision 'To provide world class youth soccer programs that enrich children's lives' than this inspirational journey of Bradley," says AYSO Director of Programs and Education, Scott Snyder.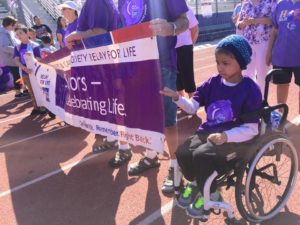 This newfound love for the game of soccer can be attributed to Bradley's grandfather Salvador, who has been waiting patiently for the day he could introduce Bradley to the game that has given the world so much joy. Salvador took Bradley to buy all his required gear, from new soccer shoes to shin guards, continuing to demonstrate  how supportive his AYSO family is.
Soccer has shined a new light of love in his life and he is revving to continue his progress for the love of the game. He is eager to practice anytime he can, even at home when he knows he has a game coming up. He has also found a team that pushes him, with him looking forward to stay active in order to keep up with his newfound friendships on his team. Backed by a selfless AYSO coach and a supportive group of teammates' parents, Bradley's progress and potential is surging.  They have been an unexpected support system by encouraging and cheering Bradley on during each game.
"The whole experience with AYSO has been a blessing. Having Bradley participate in sports has always been something I've dreamed about when he was going through treatment," says Bibiana. "I prayed he would be able to enjoy his childhood and take advantage of all the same opportunities most children get."
With a strong team on and off the field, Bradley's future and development is limitless and through the beautiful game of soccer the world is at his disposal.
To keep up with Bradley and Bibiana, follow their story on
Instagram: @bbiography