By: Carlos Funes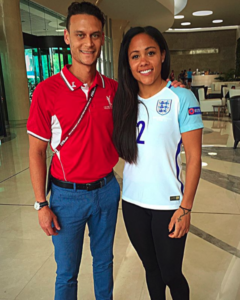 The Pacific Islands, the islands of the largest and deepest of Earth's oceanic divisions, known for being hotbeds of talent for sports such as rugby and cricket. This region faces a real challenge in growing the sport of soccer due to its long rooted sporting norms, but former Papa New Guinea (PNG) International player and AYSO alumni, Nathaniel Lepani, is hopeful that those norms will change.
Lepani, has had a storied upbringing, with moves to multiple countries before reaching the age of 18. With a mother from Minnesota and a father from PNG, Lepani was born in PNG in 1982, and quickly moved to Hawaii when he was just 4, then to Belgium when he was 9.
Hawaii is where he got his first taste of soccer in the Pacific Islands. In 1987, his second year living in the renowned tropical islands, he joined an under-6 AYSO team in Hawaii that set him on a path that would change his life.
"AYSO allowed me to hone up on the fundamentals of the game and I did so in a fun yet competitive environment," recalls Lepani. "Which was important as it did enough to challenge me to get better without putting me off due to my young age. This gave me the foundation for some of the challenges I'd face when navigating my future club/international career."
AYSO in Hawaii had its own style – influenced by the island life and natural beauty that most places in the world can only dream of resembling.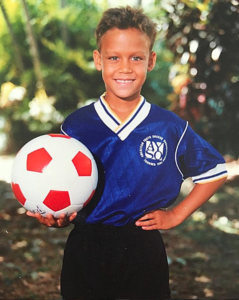 "What wasn't there to love with the great playing weather, decent quality pitches, and friendly pot lucks enjoyed after the games. For a 5-year old me one of the highlights of the season – candy leis on presentation evenings.  It spurred on the future professional-aspiring player in me. And with good support from families, volunteers and the administrators, there was that added element of organization and professionalism, even at that level."
After the seeds of soccer were planted in Hawaii, Lepani moved once again and spent three years in Belgium. He then returned to his birthplace of PNG in 1994 at the age of 12, where he stayed for two and a half years before moving to Brisbane, Australia where he completed grades 9-12 at boarding school.
Lepani's life was fast paced, moving country to country, but soccer was the one thing that remained constant throughout his life. These moves soon led to a short-lived attempt at pursuing his high level professional dream in 2001 where he had a trial at Brescia Calcio in Italy's first division of Serie A, off the back of a Papua New Guinea U-20 appearance for the Oceania qualifying leg of the U-20 World Cup. Although an offer was not given after his trial, just to be considered to play in one of the world's top soccer leagues was a feat in itself and it didn't deter Lepani from continuing on his path of traversing the soccer world.
He would continue on to play for the next 12 years and earn 12 caps with his senior national team and forge a resume that includes time with Australian clubs such as the Taringa Rovers and Brisbane City FC. Lepani's retirement came in 2013 and he then set his eyes on not growing soccer in his own life but instead growing the sport in the lives of others.
"Soccer is a part of life. So I know I will always be involved in some way or other for the rest of my life," says Lepani.
PNG called and Lepani answered. Having lived, played and worked predominantly overseas after college and university, he returned to Port Moresby in 2015 because PNG was hosting the 2015 Pacific Games – the Pacific version of the Olympics, a multi-sport event featuring countries from the Pacific. Massive government investment was placed into the sporting infrastructure for the event, including soccer facilities for the upcoming matches. Lepani knew this was a vital window of opportunity for him to give back to his home country and grow the sport that gave him so much.
"There's so much potential and talent in the Pacific. And what makes it more unique is that soccer isn't the most popular sport in most Pacific countries. But as with any developing nations around the world, without the resources and facilities you're ultimately left with raw talent that can only go so far," says Lepani.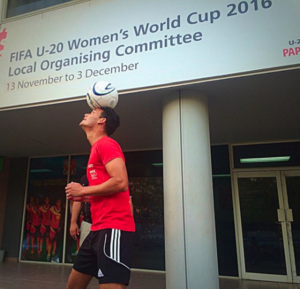 The facilities were ready and he knew he had to strike while the iron was hot and his benevolence for soccer continued to grow in PNG after the Pacific Games. This came in the form of becoming the Marketing and Sponsorship Coordinator for the 2016 FIFA U-20 Women's World Cup hosted in Papua New Guinea. This appointment came to Lepani as a surprise as fate was on his side when PNG was awarded hosting rights. The 2016 tournament hosting rights had actually been granted to South Africa in 2012, however by 2014 they pulled out, citing limited funding and it was then between PNG and Sweden to host. PNG won out in early 2015 and were given the mammoth task of delivering a successful tournament in less than 2 years, a task that Lepani was more than willing to take on.
"It was a real challenge. But an unforgettable experience and really made me appreciate the immense planning that goes on behind the scenes just to run a tournament," recalls Lepani. "I was fortunate enough to have been a player and experience a tournament from the field, but to experience it from behind the scenes and appreciate the efforts and hard work that go into it to ensure it is a success – even before a ball is kicked, was very satisfying."
From planning a counter attack on the pitch to planning a soccer marketing campaign off the pitch, Lepani has proven he is creative in all aspects of soccer. That young boy that became enamored with soccer through the fun-loving ideals of AYSO has shown what the beautiful game can do to change your life for the best and we can't wait to see what else Lepani will do to grow the game that the Pacific Islands is currently growing to love.