By Michael Denison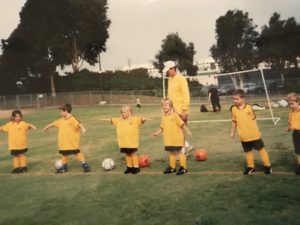 My love for soccer began in 2001 when my twin daughters joined an AYSO U6 team.  In the following years, collectively they played in eighteen AYSO seasons, during which I served as an assistant coach, team manager, and referee (which I confess I did not do well).  My twins went to different high schools, where both played varsity soccer, one for two years, and the other for four years.  The latter then spent her four college years on the varsity soccer team.  I began as a college scout during my daughter's sophomore year of college and continued after she graduated because I love watching players compete. From my house, on some weekends, I can hear cheering parents at the local park, which prompts me to stroll over to take in a game.  Whether it is a U6 or U16 game, or any age group in between, it brings back fond AYSO memories, which laid the foundation for my love of what has been called the "beautiful game."  And now, let's focus on you and Division III soccer.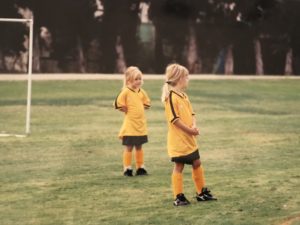 Congratulations – you have decided you would like to continue your soccer career and play in college.  Now you must work your way through the recruitment process and make the important decision whether to target colleges and universities in Division I, II, III, NAIA, some other division, or perhaps ones with vibrant college club teams.  Of course, your goal is to find the perfect college for you – one you will love, that will fit you, and at which you will enjoy soccer, academics, and college life.  Although there are advantages to playing soccer in Division I, as well as each other division, as a scout for a Division III team, I would like to explore with you the virtues of Division III soccer that you may want to consider as you navigate the recruitment and college selection processes.  Consider these comments in the context of the oft-publicized statistics that only about 9.6% of female high school soccer players compete at any college level, and only 2.3% compete at Division I colleges or universities.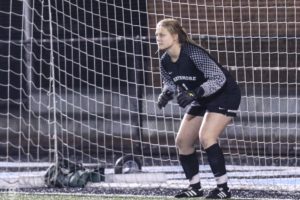 Time Commitment.  Initially, the time commitment for Division III soccer should be less than for Division I soccer.  It is often said that DI soccer is a year-round job (perhaps an exaggeration for some programs) and DIII soccer is a "soccer season" job.  For example, since the colleges in DIII conferences are typically closer than in DI conferences, travel time for games can be significantly less.  But, please don't misunderstand the time commitment comment.  Once the DIII season begins, the time commitment is significant, the competition for playing time on the team, and the competition on the field at games is demanding and intense.  But, the time difference means that during the season, and particularly during the offseason, you as a DIII player will have more time to devote to academics and other college activities, such as college clubs, community service, intramural sports, theater, music, or whatever else you may enjoy, that simply may not be available to you in a DI program.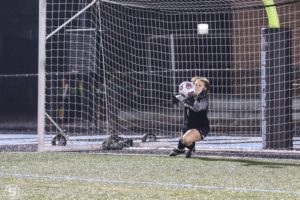 Study Abroad.  If you are interested, and depending on the college, the extra time you will have in a Division III program also will permit you to spend a semester studying abroad, which can significantly add to your college experience.  As just a few examples, recently the Swarthmore soccer players spent the second semester of their junior year at such places as San Sebastian, Spain; Copenhagen, Denmark; Cape Town, South Africa; London, England; and Prague, Czech Republic. Typically, the time commitment to a DI program will not permit taking a semester off to study abroad, although some may, and others may permit summer abroad programs.
Team Travel Abroad.  Another activity that some Division III college teams experience is the team traveling during the summer to other countries to play soccer.  For example, the Swarthmore team traveled to Costa Rica in 2017 and to Spain in 2014, where they had an opportunity to bond with teammates, meet players from other countries, explore and enjoy foreign cultures, and play some highly competitive games against professional and semi-professional teams.
Quality of Education.  Next, the quality of education at Division III colleges can be extremely high.  That is not to say that the quality of education at DI schools is not, which certainly would be incorrect.  But, DIII allows students to receive an extremely high quality of education, and play soccer, and enjoy other activities, which all add to a well-rounded college experience.  To illustrate, typically DIII colleges are smaller than DI colleges (although not all), and thus the class size and the student-to-professor ratio is smaller.  This can significantly enhance a student's ability to interact with professors and to receive more personal attention than with much larger class sizes and much higher student-professor ratios.  Also, most of the classes in smaller DIII colleges, including seminars and labs, are taught by the professors, and not by teaching assistants, which further enhances the student-professor interaction.  Moreover, if there is a conflict between DIII soccer and academics, most DIII coaches typically will place academics above soccer.
No Athletic Scholarships.  A downside to Division III soccer for some players is that DIII colleges do not give athletic scholarships.  But, is this a significant downside?  The highly coveted Ivy League colleges, which have DI soccer programs, also don't give athletic scholarships.  In fact, a review of the most recent U.S. News & World Report rankings provides some interesting insight.  On the top 20 Best National Universities list, only seven are DI that give athletic scholarships.  On the top 20 Best Liberal Arts Colleges list, only two are DI that give athletic scholarships.  That means only nine of the top 40 colleges and universities offer athletic scholarships and thirty-one do not.  So if you desire to attend one of the top colleges or universities and play soccer, unless you are vying for a spot on one of those nine teams, perhaps an athletic scholarship should be a less important consideration in your evaluation process.
It also should be recognized that DI schools are limited in the number of full women's soccer scholarships they can give.  According to scholarshipstats.com, the total number of women's full soccer scholarships per school for DI is 14, and for DII is 9.9.  With teams numbering players of 24 and up, that means not everyone on the team will get a scholarship, or if they do, it will be a partial scholarship.  This is exemplified by the average athletic scholarship for DI women's soccer players for 2017-18 being listed at $17,121.  Accordingly, if the tuition per year is high (some are $50,000 or more), and you were to receive the average scholarship amount, you still could have a hefty tuition bill.  Another consideration is that no athletic scholarship means you won't be competing on the field for scholarship money with teammates, which competition might affect your relationship with them.
Finally, most DIII colleges do give need-based financial aid, and many have significant endowments so their financial aid packages can be very generous.  For example, for the Swarthmore 2017-18 class, nearly 60% of the student body (not just soccer players) received need-based financial aid with the average aid award (scholarship and campus job combined) being about $50,000.  So if you are interested in a DIII college, do not discount it because they do not give athletic scholarships.  Work on being recruited, apply, and if accepted, learn of the financial aid package they offer before deciding.
Quality of Soccer.  Finally, a question that is often asked is how good is the quality of soccer in Division III.  In my opinion, the players' soccer ability and the on-field competition are excellent.  Also, in my opinion, many DIII players could have played in DI, and the top-level DIII teams could compete with many of the DI teams.  Just like DI, DIII has an NCAA tournament, which pits the best DIII teams against each other, and the DIII NCAA tournament is as competitive and exciting as any other soccer tournament.  Players who are considering DIII colleges should watch as many games as possible of the colleges they are considering and evaluate for themselves how competitive the games are, and how they might fit in with the team.
Before closing, let me share one fond AYSO memory, which I have heard is similar to those of other AYSO parents.  When my twins were on the field in a U6 AYSO game, one of them, who was not in the action at the time, spotted a butterfly on the field.  She yelled, "look, there's a butterfly."  The players on both teams stopped mid-game and ran over to look at the butterfly.  The ball rolled to a stop about ten feet short of the opponents' goal, with no player near, and to the amazement and enjoyment of all the spectators.
On that note, good luck in your college search and recruitment, and where ever you end up, enjoy your college soccer experience, just as you have enjoyed AYSO.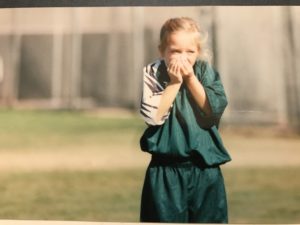 About Michael Denison
Michael C. Denison is a litigation attorney in Los Angeles, who was a former AYSO Dad, and who serves as a volunteer scout for the Swarthmore College women's soccer team. Swarthmore College is a small liberal arts college located southwest of Philadelphia, PA, and is a Division III program in the Centennial Conference.