Women's History Month (March 1st-31st) is a time designated to draw attention to the incredible achievements of women throughout history. AYSO wants to celebrate by highlighting AYSO women, past and present, who are empowering and inspiring the next generation of female leaders of the soccer world today. Hear about AYSO alums, coaches, volunteers and proud soccer moms who are dedicating their lives to create change below.
---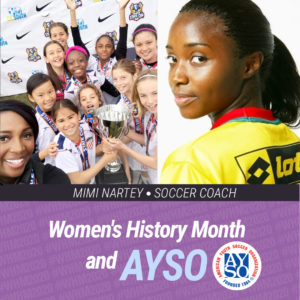 Myralyn Nartey
Besides being an educator, accomplished athlete, philanthropist, and mother, Myralyn "Mimi" Nartey, is an AYSO United soccer coach! Coach Mimi works with young athletes in the LA area, helping the next generation of athletes find success. Mimi played soccer for the Ghanaian national team, representing her country and playing the game that she loves. Since then, she has become the first woman to graduate from an Ivy League (Columbia University) and participate in a FIFA World Cup. Mimi has lectured at the UCLA Institute of the Environment and Sustainability and held adjunct faculty positions at Occidental College and Loyola Marymount University (LMU). She recently accepted the role as head soccer coach for the LMU women's team. Mimi has also launched a YouTube Channel called, MOMPETITOR  where viewers can get an inside look at her life as a wife, coach and philanthropist. Subscribe here. 
Coach Mimi on Women's Sports
"Not only do you gain the benefits of exercise, but you also develop skills for success and leadership. You learn to be strategic and how to take risks. Women still benefit from the opportunity to exercise and form friendships through sports.  It is hard as a woman fulfilling many roles (i.e. wife, mother, caretaker, professional, etc.) to find time to make new friends. In my adult life, I have still found that the quickest way to make a friend is to jump in a pickup game!" 
Coach Mimi has developed her career around women empowerment. Her beliefs on why females should participate in sports go beyond health and wellness reasons. Listen to her TEDx Talk entitled, "African Women's Soccer and Empowerment: Memoirs of a Black Queen, here. 
Jessica Cheeseman
Jessica Cheeseman is making waves in youth soccer and in the development of the women's game. A former player for London based club Tottenham Hotspurs and development coach for the Premier League giants, Cheeseman brings experience to the game that rivals most. She is currently the Director of Coaching for AYSO United Central and has most recently been appointed ID64 Director of the Girls Division. With ID64 she will be responsible for identifying AYSO United's top-level players across the nation to partake in a national training camp held in Southern California. With her amazing soccer experience in hand she will be vital in the objective of exposing the next generation of female soccer players to elite training and an advanced player-centered environment! Learn more about the AYSO United ID64 program, here.
Lena and Sierra Castles
When AYSO Alum and current Cal State Long Beach player, Sierra Castles, thinks of a powerful woman who has inspired her soccer career, she immediately thinks of her mother, Lena. From a young age, Sierra knew that she wanted to be a soccer player. Although unfamiliar with the sport, Lena trusted her daughter's decision and signed her up for AYSO. The game of soccer has been considered a huge gift for the mother-daughter duo. The day Lena lost her husband in an accident, was the day she got the news her daughter had made her soccer team. Lena says, "Sierra still loves [soccer] and I am grateful that it helped her to heal and has brought her so much joy. I see how much she loves it and I'm proud to say that I'm a "Soccer Mom!" 
Sierra is grateful for the support her mother has given her throughout her soccer career. She says, "There are a lot of strong women in this world and strong women have made me who I am today. I wasn't able to grow up with both of my parents. My mom raised me all by herself and is still there to support me and help me continue to grow…She was the person who moved her whole life from Maui to California with me so I'd have better opportunities with school and playing soccer. She continues to motivate me everyday."
Lena's advice to the new and future "Soccer Mom." 
"Be as supportive as you can with your children! Let them choose their path, their sport or whatever activity it is, and just be fully supportive of them. Get involved as much as you can because time flies so fast.I wish I could do it all over again! All of it…the driving to and watching them practice, being team mom for several teams, hanging out with other soccer parents, watching the games. Supporting my daughter in soccer kept her in good health, but also kept me active and healthy."
Lena has written a blog post called, "The Gift of Soccer," where she describes the true impact the sport has had on her family's life. Read " The Gift of Soccer" and more powerful stories of life after a loss, here.
Theresa Osborn
Regional Commissioner and 12U+ coach, Theresa Osborn, has inspired Jennifer Button to volunteer for AYSO. Jennifer has felt accepted into the organization and is inspired by Theresa's dedication! Read the kind words Jennifer has written about Theresa Osbron in celebration of Women's History Month below: 
"I started volunteering because of Theresa Osborn. She taught my daughter in dance classes and was looking for volunteers for our local AYSO program. I volunteered and was immediately accepted into an organization of people with the biggest hearts who wanted to teach children about the sport of soccer. I have learned so much and have been introduced to so many people who taught me so many things. My AYSO story starts with her and I wouldn't be volunteering for my third year without her."
---
To read more about impressive AYSO women doing great things, check out last year's International Women's Day celebration here.
To learn more about Women's History Month, click here!