At the Orange County Soccer Club training fields you can find a 14-year-old training with forwards and be hard pressed to figure out which one he was, with blazing shots at a pace you usually only see from professionals. With the average age of the training group being 26, the 14-year-old doesn't appear to be a step behind.
The kid is none other than Francis Jacobs, now, the youngest male professional player in the US, after he signed with the Orange County Soccer Club in July at the age of 14 years, 4 months, 29 days and he is working hard to show why he belongs there.
Days like this are his favorite since signing with the United Soccer League (USL) Championship team. When asked what his favorite thing of being a pro so far, Francis answered simply, "Probably just practicing every day."
This love of playing the game with no frills, for the love it, can be traced back to his AYSO soccer days. Francis played AYSO from kindergarten through 5th grade, a total of five years with AYSO Laguna Beach, Region 86.
His mother Cindy Jacobs was a big proponent of keeping Francis involved with the core program, attributing much of his love for the game to his days of orange slices and Soccer Saturdays.
"I have many memories of him training with AYSO. We had some great AYSO coaches, who helped pave the way for him to be here today, not only with their enthusiasm but taking the time to teach the kids the rules, camaraderie, working hard and being a good teammate," shared Cindy.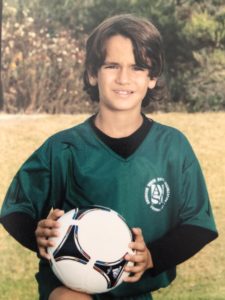 Looking at his player journey, Francis has been fortunate to have a good base of coaches along the way. From his dedicated AYSO coaches, to his newest mentors with Orange County Soccer Club, Francis recognizes their effort. First team assistant coach and former Swiss professional, Didier Crettenand, and veteran players, like US National team's Michael Orozco, are taking Francis under their wing to ensure that he has the foundation for a good experience.
"Michael Orozco, and Didie…they both help me out a great deal and everyone involved with the club, from the players to the coaches, are all really nice," shared Francis.
Orozco had a start similar to Francis, leaving to play full-time in Mexico at the age of 16 and enjoying a 17-year career south of the border before returning to his native Orange County. That shared experience is as asset to help train Francis both on and off the pitch.
"We want him to develop to be the best soccer player he can be but it's a long process…so we need time," said Crettenand. "It's not easy with a young player like him to train with the first team of professional guys, who average between 25-30 years old but he's doing well and I'm with him to focus on his weaknesses."
This trust in youth talent isn't a new initiative for Orange County. Just before the 2018 USL Championship season, they signed another young AYSO alumni to a professional contract at the age of 15-years-old, standout goalkeeper, Aaron Cervantes, from AYSO Region 779 in Chino Hills.
Under Orange County Soccer Club's tutelage, Cervantes' development has been on track, recording 3 shutouts in 11 starts this past season, coming in at #9 of the USL 20 under 20 list  and punching his ticket to the 2019 FIFA U-17 World Cup in Brazil with the United States U-17 national team.
Francis is taking notes from his US teammates and paving his own way within the US national game. On October 21, he scored the game winning goal in the US U-15 Boys' National Team match-up against Iceland in the UEFA Development Tournament in Poland.
Orange County Soccer Club President of Soccer Operations and General Manager, Oliver Wyss, has been the driving force behind their youth movement and seems to have the right mindset when bringing on these rising stars to his team. A Swiss-American with a resume that includes time with the Swiss Youth National Team and a professional career in the Swiss first division, Wyss has a good understanding of what it takes in managing and evaluating talent.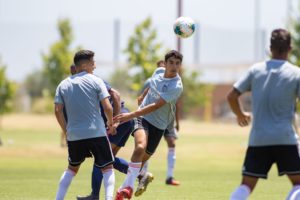 "We had Francis training with us since May, we closely evaluated him, had him scouted before knowing him and we felt that he was ready for the next step," said Wyss. "Yes, we want to win USL cups and championships like any other professional team but we feel so strongly about our community, the talent and we are committed to bring in younger players to develop them in a professional structure to set them up for success."
Ultimately, the journey for Francis is just beginning, from AYSO to Orange County Soccer Club and the US Youth National Team, he's enjoying every bit of this adventure.
"It's been a short journey, but a wonderful one. And I hope it's a very long journey from here. We've enjoyed every minute and we're just so proud to watch him play," said Cindy. "We look forward to many more years of being able to watch him on the field, having fun, working hard and enjoying his teammates."
For now, Orange County Soccer Club is going to take it slow and keep a careful eye on Francis' development and manage expectations, a process he fully understands and is ready to put the work in for. His humility and eagerness to learn has helped his transition to the professional life come with ease and AYSO is proud to have been a part of his illustrious player career.
"My first goal is to make the starting lineup. It's going to be hard, but that's what comes first and then I can go from there," said Francis.
There are amazing things to come from this AYSO alum and we are excited to see what happens next
in his soccer journey. We hope his love of the game continues to
shine bright.