TORRANCE, CA. — The American Youth Soccer Organization (AYSO) is excited to announce Augusta Sportswear, SOCCER.COM and O Organics as the presenting sponsors for the 2019 Give the Gift of Soccer Campaign.
"We are proud to partner the Give the Gift of Soccer Campaign with brands whose missions and values clearly align with those of the organization," shared Yvonne Lara, Director of Marketing and Communications, AYSO. "We are confident that together we can bring more soccer to more kids and be a reason a child smiles out on the field."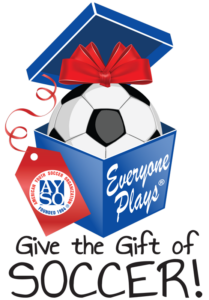 AYSO has made it a mission to partner with brands that bring a shared mission for enhancing children's lives through the game of soccer. As presenting sponsors of the Give the Gift of Soccer Campaign, Augusta Sportswear, SOCCER.COM and O Organics have provided the top donations towards the Hugo Bustamante AYSO Playership Fund that provides soccer scholarships to young players in need.
For their contributions, Augusta Sportswear, SOCCER.COM and O Organics will be highlighted throughout the Give the Gift of Soccer campaign to AYSO's audience through several communications methods including AYSO.org, social media and e-newsletters.
Over the past few years, AYSO donors have given more than $300,000 to help nearly 6,000 children play AYSO soccer who couldn't have otherwise afforded it. The campaign will accept donations until the end of the year, December 31, 2019 to continue ensuring that Everyone Plays®.
About AYSO
Established in 1964, AYSO is a national nonprofit organization that develops and delivers quality youth soccer programs, which promote a fun, family environment based on AYSO's Six Philosophies: Everyone Plays®, Balanced Teams, Open Registration, Positive Coaching, Good Sportsmanship, and Player Development. Today, AYSO has 1.6 million players, parents, siblings and volunteers. For more information, visit www.AYSO.org.
About Give the Gift of Soccer
Give the Gift of Soccer is AYSO's annual End of Year campaign that raises money for the Hugo Bustamante AYSO Playership Fund, which is built on the idea that all children should have the opportunity to play AYSO soccer, regardless of financial limitations. The Hugo Bustamante AYSO Playership Fund provides soccer scholarships to young players in need to ensure children with the desire to play soccer are given the opportunity. Driven by the vision to provide a world class youth soccer program that enriches children's lives and the inspiration of the fund's namesake, AYSO believes that when you give the gift of soccer, you give a gift of beauty this game and the AYSO community has to offer. To learn more and to donate, please visit https://ayso.org/get-involved/donate/.
About Augusta Sportswear Brands
Augusta Sportswear Brands is a leading designer, manufacturer, and marketer of innovative high-performance activewear and spiritwear for teams, coaches, athletes, and fans. Together the five brands—Augusta Sportswear, Holloway, Russell Athletic and High Five – combine to form the largest supplier of youth to adult team uniforms in the industry. Augusta Sportswear Brands is driven by the mission to inspire physically fit lifestyles, healthy families, and connected communities.  For more information on Augusta Sportswear Brands, please visit www.augustasportswear.com.
About SOCCER.COM 
Founded by soccer players for soccer players, SOCCER.COM was created over 35 years ago by a family who loves and lives the game. Today, SOCCER.COM continues to be a family-owned business fueled by an unrelenting passion for our sport. At our core, SOCCER.COM is a community of players, coaches and fans who celebrate and work to grow the game in everything we do. To learn more visit www.soccer.com.
About Albertsons Companies Inc.
Albertsons Companies is one of the largest food and drug retailers in the United States, with both a strong local presence and national scale. We operate stores across 35 states and the District of Columbia under 20 well-known banners including Albertsons, Safeway, Vons, Jewel-Osco, Shaw's, Acme, Tom Thumb, Randalls, United Supermarkets, Pavilions, Star Market, Haggen and Carrs, as well as meal kit company Plated based in New York City. Albertsons Companies is committed to helping people across the country live better lives by making a meaningful difference, neighborhood by neighborhood. In 2017 alone, along with the Albertsons Companies Foundation, the company gave nearly $300 million in food and financial support. These efforts helped millions of people in the areas of hunger relief, education, cancer research and treatment, programs for people with disabilities and veterans outreach. For more information, please visit www.albertsonscompanies.com.
###
Media Contacts:
Yvonne Lara
(424) 221-7971
Carlos Funes
(424) 221-7980